Virgil (Gus) Ivan Grissom (April 3, 1926 – January 27, 1967) was the second American to go into space. Like many other early
astronauts
, he was an Air Force pilot. He flew in combat missions, worked as a trainer and tester before he became one of the one of the seven original
NASA
Project Mercury
astronauts.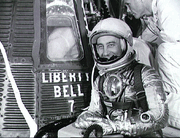 In 1961, Captain Grissom flew the Mercury-Redstone 4 mission, also known as Liberty Bell 7. He also flew the Gemini 3, nicknamed the Molly Brown. The name Molly Brown is a humorous reference to the story of the "unsinkable Molly Brown" and the fact that the Liberty Bell 7 sank, starting a controversy about whether Grissom had blown a hatch before he was supposed to do so. (Later evaluation said he did not.) Some officials were not amused. This second flight made him the first person to fly into outer space twice.
In 1967, Lieutenant Colonel Virgil I. Grissom was killed during an accidental fire during a pre-launch test at the Kennedy Space Center. Ed White and Roger Chaffee were also killed in the accident. It's likely that if he had not died, he would have been the first person to walk on the moon.
There are several schools named after Grissom.
References
Edit