NASA (acronym for National Aeronautics and Space Administration) is an United States government agency responsible for the USA space program. Most notably, they were the first space agency that organised a lunar landing. Their motto is: "For the benefit of all". Michael D. Griffin is the chief of NASA and their headquarters is in Washington D.C. Their budget is 17.3 billion USD.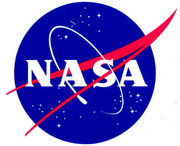 Apollo program
Edit
The Apollo program was designed to land humans on the Moon and bring them safely back to Earth. Apollo 1 ended tragically when all the astronauts inside died due to fire in the command module during an experimental simulation. Because of this incident, there were a few unmanned tests before men boarded the spacecraft. Apollo 8 and Apollo 10 tested various components while orbiting the Moon, and returned photographs. On July 20, 1969, Apollo 11, landed the first men on the moon, Neil Armstrong and Buzz Aldrin. Apollo 13 did not land on the Moon due to a malfunction, but did return photographs. The six missions that landed on the Moon returned a wealth of scientific data and almost 400 kilograms of lunar samples. Experiments included soil mechanics, meteoroids, seismic, heat flow, lunar ranging, magnetic fields, and solar wind experiments
Skylab was the first space station the United States launched into orbit. The 75 tonne station was in Earth orbit from 1973 to 1979, and was visited by crews three times, in 1973 and 1974. Skylab was originally intended to study gravitational anomalies in other solar systems, but the assignment was curtailed due to lack of funding and interest. It included a laboratory for studying the effects of microgravity and a solar observatory. A Space Shuttle was planned to dock with and elevate Skylab to a higher safe altitude, but Skylab reentered the atmosphere and was destroyed in 1979, before the first Shuttle could ever be launched, landing over parts of Western Australia and the Indian Ocean, with some fragments being recovered. here is their site. http://www.nasa.gov/
==
==

Ad blocker interference detected!
Wikia is a free-to-use site that makes money from advertising. We have a modified experience for viewers using ad blockers

Wikia is not accessible if you've made further modifications. Remove the custom ad blocker rule(s) and the page will load as expected.